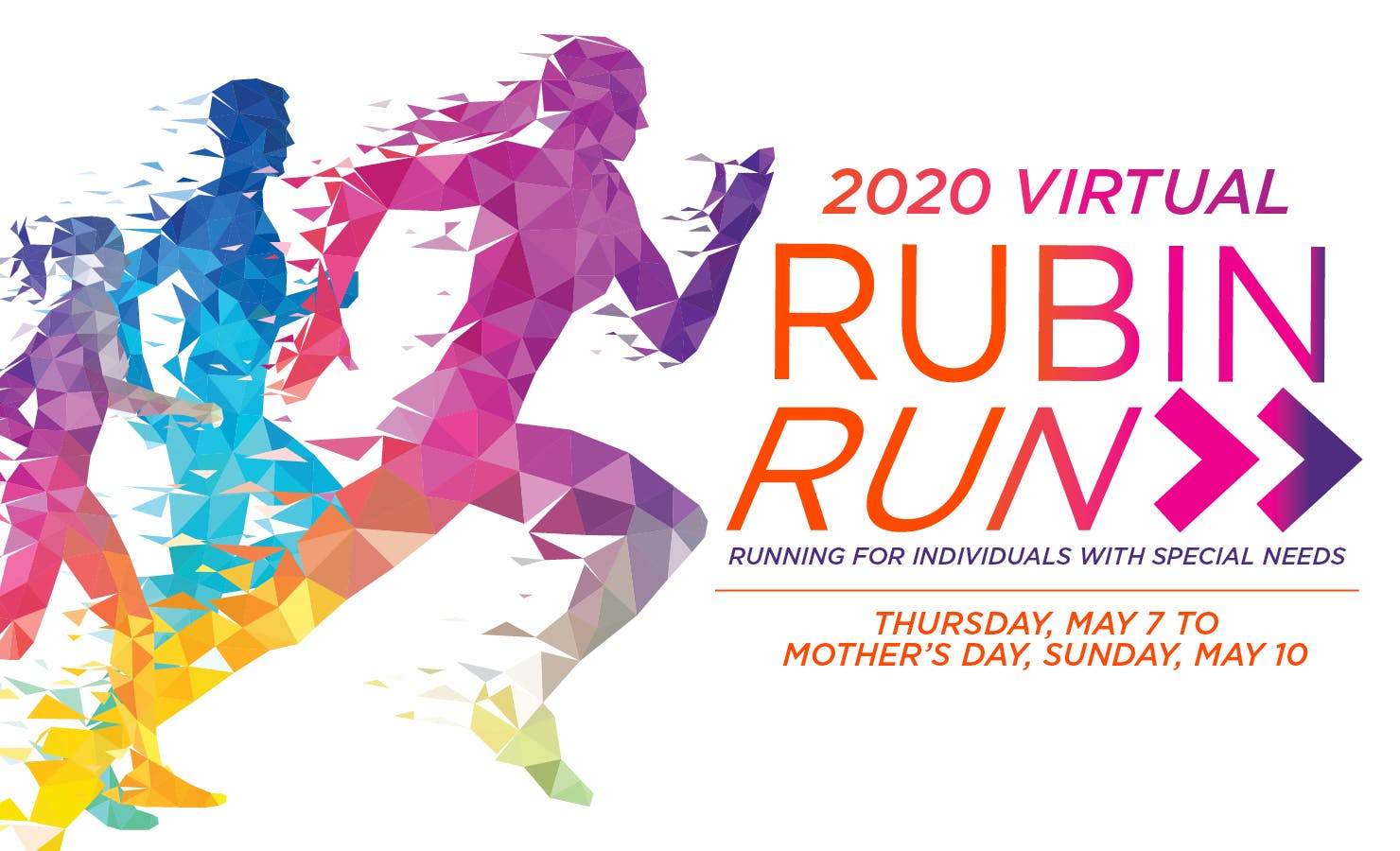 PLEASE JOIN US FOR OUR NEW VIRTUAL RUBIN RUN AND RUN FOR INDIVIDUALS WITH SPECIAL NEEDS!
Thursday, May 7- Mother's Day, SUNDAY, MAY 10, 2020
Due to increasing concerns about the spread of coronavirus (COVID-19), as well as guidance from the CDC and local public health departments, we have made the necessary decision to transition the Rubin Run to an entirely VIRTUAL event instead.
This decision was made out of an abundance of caution and caring, in partnership with volunteer leadership at both the local and national levels.
The 2020 Virtual Rubin Run: Running for Individuals with Special Needs is an incredible community celebration and centerpiece for the Kaplen JCC on the Palisades family. However, as an organization focused on serving our entire community, the health and safety of the individuals we serve, as well as our supporters, volunteers and staff, must be our highest priority.
Despite these unforeseen and challenging circumstances, the JCC is excited to bring the Virtual Rubin Run to YOU – no matter where you are.
The 2020 Virtual Rubin Run: Running for Individuals with Special Needs will feature 5K, 10K, Half Marathon challenges as well as a new Kids Fun Run, a 1K distance challenge for children ages 12 and under, and a Set My Own Distance Challenge where you can decide the distance you want to complete. The Set My Own Distance Challenge is a great option for individuals at any fitness level who wish to participate in the way that best meets their personal goals and abilities.
From Thursday, May 7- Mother's Day, Sunday, May 10, every kilometer (KM) you cover will count towards your target, and by raising money along the way you are helping our JCC to meet its collective goal of $150,000. You can choose to run your selected distance in one day or more – it's up to you! There will be a variety of health and wellness opportunities to support your personal journey as well as celebratory Mother's Day activities for you and your family to enjoy. 
The Rubin Run is more than a virtual race!
Proceeds from this event will be used to support hundreds of individuals with special needs and their families who rely on the vital resources and social connections provided by our JCC every day. Even during this time of closure, our programs and services are very much open virtually. We are providing online group classes with adapted curriculum, direct one-to-one outreach to individuals (and their families/caregivers) to assess needs and provide personalized support, and resources and guidance for parents and caregivers as they navigate uncharted territory.   
Our mission to provide social, educational and vocational programs with appropriate supports to individuals diagnosed with a developmental disability or autism does not slow down or stop. In fact, we are working harder than ever to ensure that this population, who already experience high levels of social isolation and anxiety, do not experience regression.
Our fundraising goals have not changed. While we may not be able to come together physically, we can come together virtually. As a community, help us to ensure that individuals with special needs have access to these critical programs and services now and into the future.
There are many ways to participate in the Virtual Rubin Run and each opportunity is important to our fundraising goal! You can help by:
How it Works
Complete a virtual 5K, 10K, Half Marathon, Kids Fun Run (1K) OR set your own distance! As a virtual race, the Rubin Run can be run (or walked) from any location you choose. You can run, jog, bike or walk on the road, on a trail, on the treadmill, or on the track. You get to run your own race, at your own pace, and time it yourself. Downloadable race bibs will be sent via email 2 to 5 days after you have completed registration. Finisher medals will be provided to children 12 and under who complete a challenge, and can be picked up at the JCC after the event.
After you register, create and share your Everydayhero fundraising page. Tell your story through your own fundraising page and share it on social media with everyone you know to reach your fundraising goal. Check out these fundraising tips to help your fundraiser be successful. The JCC will also be offering individual, youth and team incentives and recognition as a reward for their tremendous efforts.
Finally, get moving and track your progress. Log your walking or running distances between Thursday, May 7 - Mother's Day, Sunday, May 10 by using a FitBit, downloading free Strava or MapMyFitness apps, or alternatively manually adding your KMs to your page.
We encourage you to take photos and share your race with us! We would love to hear about your race. Share your photos and connect with participants by posting on your Facebook and Instagram pages and tag us by using #VirtualRubinRun2020